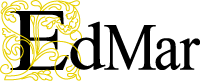 Threads Designs Books Needles Extras
Ordering News Shows Help Contact
EdMar Rayon Thread Colors
For a one-page printer-friendly text description of all colors, click here:
Official EdMar Color List .pdf
EdMar Co. is pleased to present the newest colors to our line of seven weights of 100% Rayon hand embroidery threads.

#234 Emerald Green. This new solid green exudes the beauty of priceless emeralds. Embroiderers will appreciate the high saturation and purity of color. Emerald Green is not too yellow and not too blue.




Use these charts for rough estimation only.

EdMar Rayon Thread Color Charts

VARIEGATED: By Number
(300 series colors will be added soon.)

On the left is EdMar #000; our traditional white. On the right is the new #233 Bright White. This new white is shades whiter and virtually colorless compared to the standard white, perfect for giving any hand embroidery project that eye-catching pop.

If you don't see a difference between the two skeins, your monitor may not be correctly adjusted.


For good results, adjust your monitor so that you can see 18 shades from white to black.


For the best results, you should also see 16 distinct shades from white to gray.
| | |
| --- | --- |
| The colors shown on the charts, both printed and online, are represented as accurately as possible but are not intended to be exact. The vibrant colors of the dyes used to create EdMar threads cannot be reproduced in their richness using a computer monitor or printer. Differences and limitations of monitors, display configurations, preference settings, browsers, etc. all contribute to the misrepresentation of colors. The threads themselves also vary in color depending on dye-lot, thread weight, and lighting conditions. | Adjusting the brightness and contrast of your monitor will help in seeing the full range of displayable colors. For example, the background of our webpage has a subtle image of the EdMar logo, if you do not see this, your monitor is set with excessive brightness and/or contrast. Proper calibration of your monitor will greatly improve the visibility of subtle color differences and show the widest range of brightness and color. |
Website Copyright - EdMar Co.
Designed by Adriano