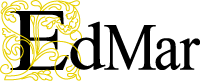 Threads Designs Books Needles Extras
Ordering News Shows Help Contact
EdMar Needles are available in assortments or single weights &
a wide range of Milliners and Darners for all your needleworks!
Extra Long Darner 1
Extra Long Darner 3
Long Darner 7
Long Darner 9

Darner 18
Darner 3

Short Darners 10, 11, & 12

Millinery 15

Millinery 1
Millinery 3
Millinery 5
Millinery 7

Crewel 3, 7, 8, & 9


Tapestry 22
Tapestry 24
The size of the needle determines the outcome of the stitch.
Seen here on the left, the #15 needle is much larger than the #1 Millinery Needle shown on the right. The examples of Cast-on Stitches are all made with the same thread weight and stitch counts for each needle. The larger needle creates a much more open and lace-like appearance to the Maria's Rose and Bud as compared to the tighter, more compact look achieved by the smaller #1 millinery needle. This is an excellent addition to any stitchers set of needles, especially if you use Bouclé, Nova, or other heavy weight threads.
NEEDLE SIZE GUIDE - pdf (10k)
Website Copyright - EdMar Co.