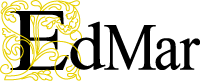 Threads Designs Books Needles Extras
Ordering News Shows Help Contact
EdMar Co. Manufactures the highest quality rayon embroidery thread available on the market today.
Our thread is ideal for any kind needlework; from cross-stitch to crewel, and dimensional to needlepoint, the brilliant colors and remarkable texture will bring all your projects alive.
Visit us now on
Website Copyright 1996-2018 - EdMar Co.