Series 10

This collection of designs offers the beginning, intermediate, and advanced stitchers a beautiful selection of very attractive projects. With it's wide range of styles and sizes, this series has something for everyone.
Series 12

This series features simple, elegant designs of very popular Brazilian embroidery flowers. Each design is printed on a 7"x7" fabric and are excellent for beginning stitchers. All are available as kits.
Series 14

The 14 series offers projects with medium difficulty. The small size is less intimidating to beginners and the more experienced stitcher will appreciate the added challenges involved. All are available as a complete kit.
Series 15

The 15 series offers delicately articulated rings. Embroiderers of all levels will delight in these classic designs. Fabric size is 10X10 inches for each and the designs are all about 4" in diameter.
Series 16

The 16 series attracts the more adventurous embroiderer. These larger designs are truly breathtaking when completed. Using the same basic stitches as the smaller patterns, even a novice can create a masterpiece! Not all designs are available as a complete kit.

Series 17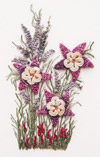 Inspired from the large "Primavera" project, these individual pieces are perfect for the intermediate stitcher looking for smaller projects. All are printed on 8"X10" fabric and are available as Kits.

Series 18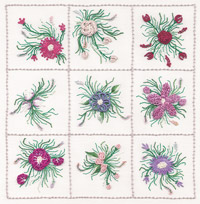 Samplers for every taste are featured in the 18 series. This classic format lends itself to pillows, quilts, framed hangings or anything you can imagine.
Series 20

The Christmas petites are all printed on 7X7 inch fabric. Each one compliments the other in this festive collection. They are all available as a kit with everything you need, including complete instructions.
Series 36
This larger Christmas print is a holiday favorite. Beginners and experts alike will enjoy this festive pattern. #3658 is currently the only pattern available in this series.
Series 51

Our most popular series features seven flowers in lovely arrangements. Each design is printed on a 8"X10" fabric and are excellent for beginning stitchers. All patterns in this series are available as both Kits and Prints.